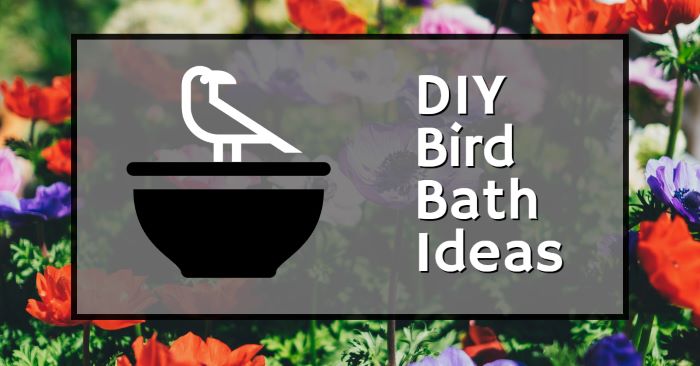 If you want to attract local birds to your yard or garden, the best option is to install bird baths or bird feeders. DIY enthusiasts will be pleased to note, there are many ways to craft unique bird baths and feeders from everyday items and repurposed materials.
Repurposed lamps
Do you have an unused lamp in need of a fresh purpose? You can create a DIY bird bath by upcycling it for a funky, vintage garden vibe.
One popular method for creating a lamp bird bath is to remove the bulb fixture from the base and attach a trash can lid on top. However, if your lamp has a shallow glass shade, you can flip it upside down to create a bowl bird bath.
Salvaged chair bird bath
Another excellent source of DIY bird bath ideas is salvaged furniture, especially chairs. Rather than refurbish an old cushionless chair for sitting, add a shallow basin to the seat to create a fun bird bath.
You can use a vintage ceramic bowl or even a terracotta saucer for a simple, affordable upcycle for your feathered friends.
Branch out
For a more rustic approach, use tree branches as the base for your DIY bird bath. Cut three branches to equal lengths and stick them into the ground to create a simple yet sturdy base.
Another DIY bird bath idea involves using a stump as the base. Whether you have a natural stump in the ground or relocate one to the perfect spot, a tree stump bird bath is quick and affordable.
A natural touch
If you wish to add a more unique and natural detail to your bird bath creation, consider decorating the inside of the bowl or saucer set with decorative stones.
Another great idea the birds will love is to nestle your bird bath or bird feeder among tall grasses or shrubs. This provides natural shelter from predators, harsh winds and hot sun.
Though it may take some time, birds are sure to notice your new bird bath and stop by to rest and have a drink. Using these fun DIY ideas, you're sure to create a wonderful addition to your yard or garden while providing a perfect oasis for your local feathered visitors.